About RealPlus
RealPlus was officially launched in 2017 by BDSPlus, a consultant company specializing in Market Research and Real Estate Project Development in Vietnam.
RealPlus JSC. is run under the modern strategic model of "360-Degree Real Estate Services", services from A to Z, which bring us competitive advantages.
Mid to high-end projects
RealPlus is focused on servicing mid to high-end projects to include apartments, homes, villas, resorts, etc.
Professional support, optimal efficiency
With experienced and professional team, RealPlus is confident in our ability to provide you services of the highest standards with optimal efficiency.
Core values
Teamwork
"If you want to go fast, go alone. If you want to go far, go together." The value of a team lies in the spirit of working together to overcome challenges to achieve goals. RealPlus is committed to developing strong working relationships to "go far" with customers, partners, shareholders, employees, and associates alike.
Continual striving
RealPlus never gives up, always maintains a pioneering spirit and is determined to reach our shared goals. RealPlus provides a comprehensive range of professional services adapted to our clients' requirements, guaranteeing that all commitments are met.
Strict disciplines
Adherence to regulations, laws and strategies ensure we maintain our reputation as a professional, reliable and trustworthy partner to our customers.
Mission
RealPlus' mission is to provide customers and investors with professional and optimally efficient real estate services.
Vision
Our vision is to rise to the position of one of Vietnam's top five mid- to high-end real estate market leaders.
Achievements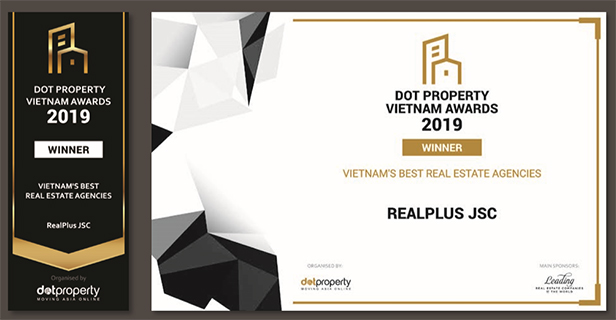 Vietnam's Best Real Estate Agencies 2019 Award at "DOT PROPERTY VIETNAM AWARDS 2019"
RealPlus was honored to receive the Vietnam's Best Real Estate Agencies 2019 Award at "DOT PROPERTY VIETNAM AWARDS 2019".