??? ? GAMUDA LAND VN ???????: ???? ?????-?? ???? ?????? ??????????
Mr. Trinh Hoai Duc - Chairman of RealPlus participated as a co-host for the MBC Webinar. The program organized by Malaysia Business Chamber VietNam and GAMUDA Land mentioned "Post Covid-19 Real Estate Investment - Realizing New Opportunities".
The Covid-19 pandemic has led to widespread disruption in the globe and hit hard on the economic world. Businesses are facing many challenges and it appears that we may have several more waves of pandemic crisis lying ahead of us. In order to meet the challenges caused by the pandemic, businesses have to react in an agile and decisive way. As we move into the next phase, now is the time for businesses to seek out and seize the opportunities emerging in the recovery phase.

In this webinar, we learned more about: How the performance of the residential market is being impacted recently by the fourth wave of the Covid-19 pandemic? What is the movement and status of FDI, especially in the real estate industry? In line with that, what is the updated law and advice from a legal perspective? And most importantly, how would the experts manage the current challenges and take on the new opportunities?
????? ????
? Friday, 19th November 2021
⏰10:00 AM – 11:00 AM (Vietnam time zone)
?Zoom (Zoom Webinar link will be sent to your registered mail)
?Free of Charge
????????
• Ms. Khanh Nguyen – Head of Business Development, Gamuda Land HCMC
• Mr. Duc Trinh – Chairman, RealPlus
• Mr. Tran Binh – Partner, LNT & Partners
?????????
• Mr. Leong Khen Neng - MBC Committee Member, Head of Business & Corporate Banking, Hong Leong Bank Vietnam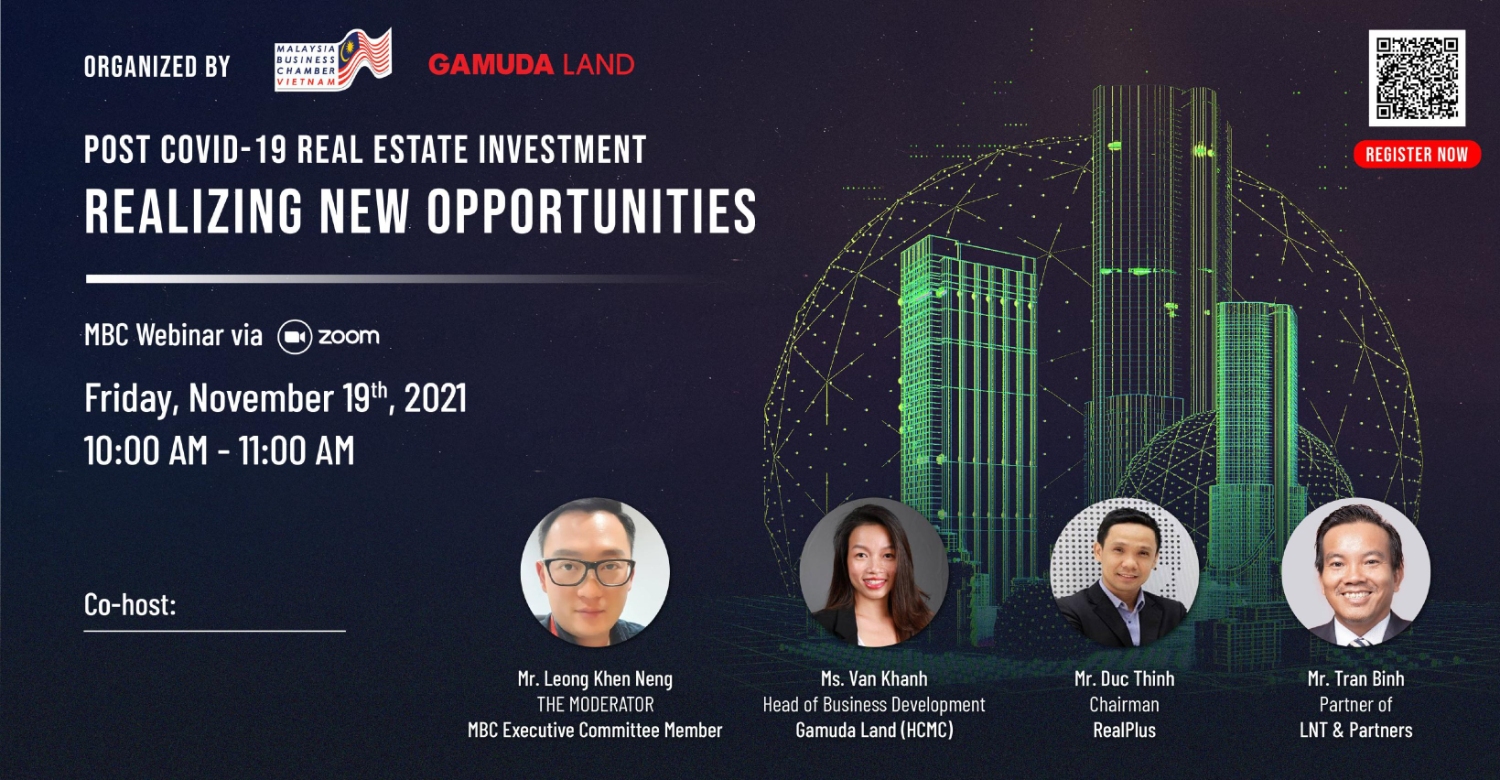 "
Update date: 12:06 PM, 19/11/2021