GREAT NEWS "REALPLUS IN ASSOCIATION WITH SAVILLS"
"Congratulations on the acquisition by Uk-based Global Property Consultancy Savills of a 30% shareholding in HCMC-based RealPlus JSC.
August, 2021"
Today, 3
rd
August 2021, RealPlus is delighted to announce the successful strategic partnership with Savills through the purchase of 30% of the shares in RealPlus, forming a brand new unique platform which is officially launched as
"RealPlus in Association with Savills".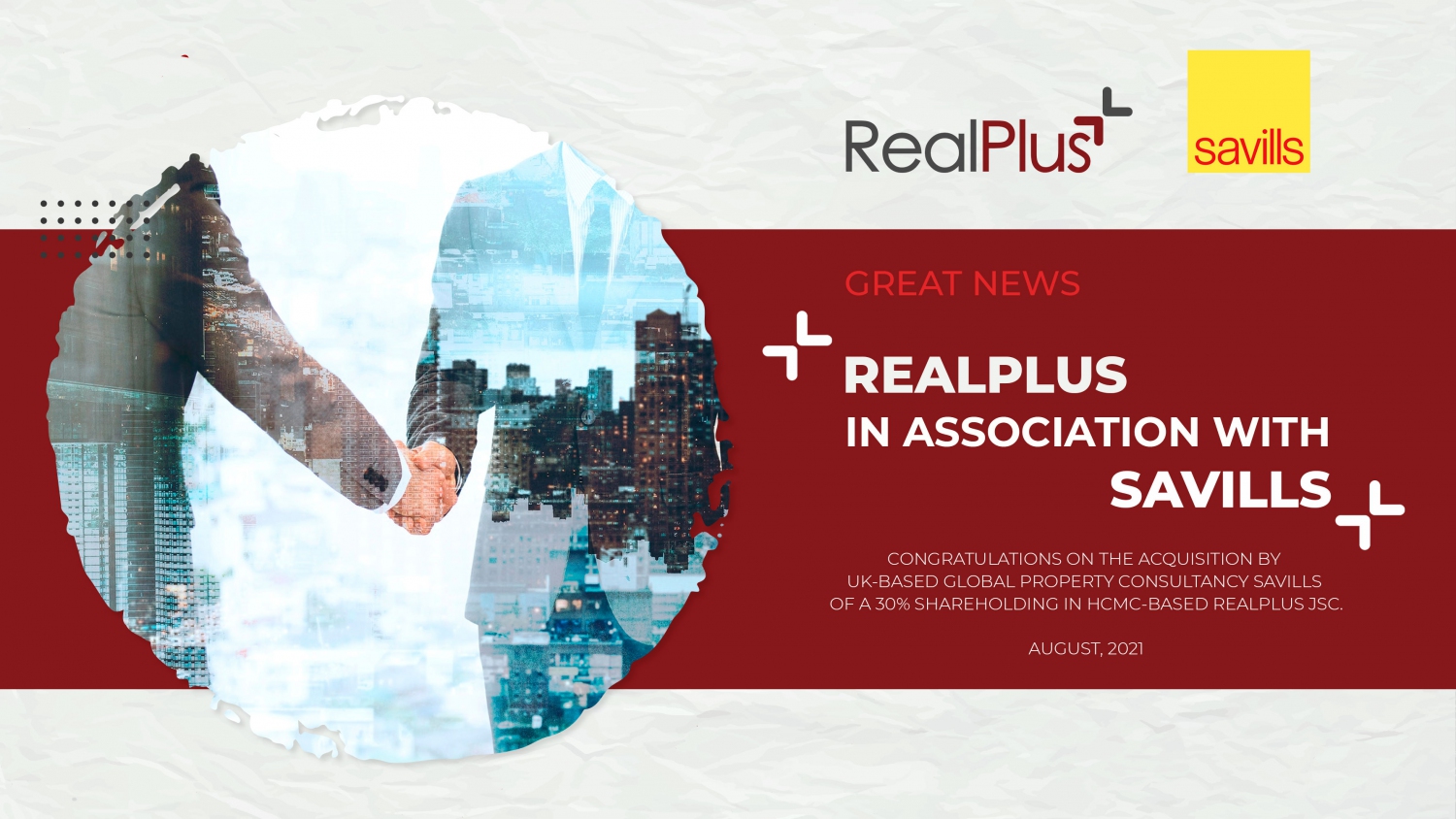 Based in Ho Chi Minh City, RealPlus was established in 2017 and within a short period of time has proved itself as one of the country's most unique, progressive and innovative property agencies, offering in-depth experience in market research, development advisory to brokerage services in end-to-end residential and resort developments at all price points.
Founded in 1995, Savills is the most famous international property service provider in Vietnam with more than 2,000 professionals able to provide expertise in the residential, commercial, hospitality and industrial sectors over the past 25 years.
"Having distinguished core values of integrating the solid know-how in both local and international property markets over the last 12 years, RealPlus' Senior Management Team believes that this strong alliance with Savills will definitely improve our standards of professionalism, strengthen our key competitive advantages from marketing and new technologies supported by our new Partner, Savills. RealPlus will be itself also increasing and providing more capital to facilitate our next level growth in business expansion in the promising post-pandemic future."
In addition, our real estate developer clients, property buyers, collaborating agencies will be obviously experiencing better diversified products and services from our new association platform", shared Mr. Trinh Hoai Duc, Chairman of RealPlus.
Update date: 02:13 PM, 04/08/2021
Older articles